With the launch of our new EU warehouse*, in the Netherlands, we have been receiving many frequently asked questions.
We have selected the ones that come up the most and thought we should answer these down below:

All the great benefits we've been offering in our US warehouse, also apply for our EU warehouse.

Express Delivery

Doorstep Delivery

Free Repack Service (Saves you money!)

60 Days of Free Storage

Exceptional Customer Service
And of course: Shop all your favorite brands in Europe!

It's very easy!
Step 1: Click on the "Get Started" button on the top right of your screen and create an account; or simply click "Login" to access your suite.
Step 2: Find the European flag and click on it. This can be found anytime by clicking on your name at the top right of your screen. "
Besides the EU warehouse address, in the same space you will find all the necessary information such as our phone number and your suite number.

Anytime you're considering a purchase of an item that may be ambiguous in terms of permissibility, don't hesitate to contact our friendly support team - who'll be more than happy to help! :)
- Weight & Dimensions
Be aware of the size of your order when it comes to shipments made from our Europe warehouse.
Our maximum shipping weight and dimensions are as following:
DHL - 70 KG or 120 x 80 x 80 cm
70 kg = 154,32 lb
120 cm x 80 cm x 80 cm = 47,24 in x 31,50 in x 31,50 in

Cost Calculator:
At MyMalls we have an easy to use cost calculator to estimate your shipping costs - It's very important to us that our shipping costs are clear. This way we avoid any surprises and you will have a better shipping experience.
DDP - DDU: We offer two different payment methods, DDP and DDU. If you have shipped from our US warehouse before, then you are used to using our DDU payment method. Let's shortly explain the difference!
- Delivery Duty Paid (DDP): This means your shipping, duties and taxes are all included at checkout. You won't have to pay again once your package is delivered at your doorstep. MyMalls has already taken responsibility for this.
- Delivery Duty Unpaid (DDU): This means that you've only been charged for shipping at checkout and that prior to delivery you will be contacted by our shipping partner regarding the duties and taxes to be paid. For more information about import duties fees please contact your local customs authorities.


Setting up your payment type:
1- Click on your name in the top right corner of your suite account;
2 - Click on "account settings";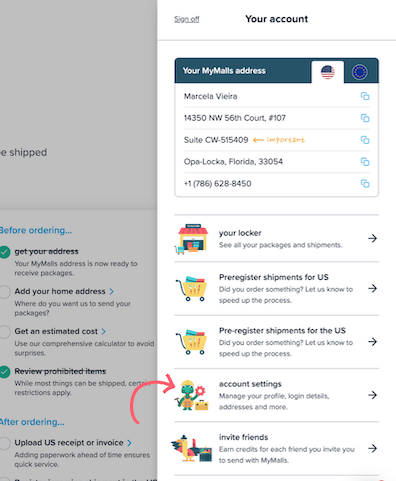 3 - Add your credit card information:
You can also have the "Default shipping option" where you can choose which of our partners you would like to send your packages with, DHL (shipments from US and Europe) or Fedex (only shipments from US). You can change this anytime you'd like.
An extra special treat for our MyMalls family in Aruba, Bonaire, Curacao and St. Maarten: You can add your Fun Miles card to your wallet as well and earn a Fun Mile with every Dollar spent on shipping. You can also pay for shipping using your Fun Miles card.

MyMalls ships to customers in the Caribbean, Canada and Latin America You can find all the countries we ship to on our homepage → MyMalls.com

First and foremost, you have to find the invoice your retailer created. To find this you must visit your retailer's website or check your email for any order receipt - Save this in PDF form (No screenshots please!). Now get ready to upload this to MyMalls.

There are two options when it comes to uploading your invoice. You can either pre-register this or wait for your package to arrive and then upload it.

- Pre-register:
If you're a new MyMalls member, log into your MyMalls suite and click on "Upload EU receipt or invoice":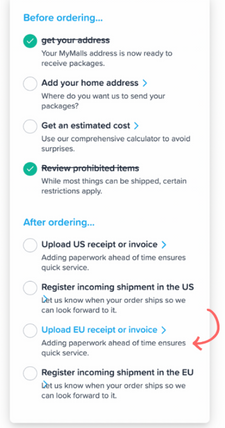 If you're already a MyMalls member look for this cart in your suite and click on it:

Either way, you will be redirected to this following page:

Now it is time to pre-register your invoices, you can do that by dropping the files or uploading them from your computer.
By pre-registering your invoices you will reduce the processing time in the warehouse upon arrival of the package and therefore speed up the shipping process.
Result: Your order will reach you faster!

Make sure you place payment for your packages before the following cut of time to ensure these will leave our warehouse on the same day.
10:00 AM Atlantic Standard Time - (GMT-4)
16:00 PM Central European Summer Time - Netherlands (GMT+2)


We hope this content helped you!

Can't find the answer to a question you might have in this blog? ? Don't hesitate to contact our friendly Customer Support team, we'll be happy to clarify any query that you may have.
The MyMalls Team


*Please note that as the UK is no longer part of the European Union, additional taxes are involved for packages from the UK.