It's Ghostober at MyMalls and we have something very special in store for our Halloween loving members. Before we get into it, we want to highlight our latest member country: Ireland - the place where it all began! Dating back to the Celtic festival of Samhain, Halloween has been a quintessential part of Ireland's culture and folk history for 2000 years. So, it is no wonder this spooky holiday is still highly celebrated on the Emerald isle.
Despite its Irish origins, Halloween is considered an American Holiday with trick-or-treating, pumpkin carving and costume wearing as its most common traditions. The spookfest has now exploded all over the world and the countries MyMalls operates in are no exception. So, if you aren't sure how to celebrate, we are here to help make your Halloween a Terrorific one!
Get $10 Off Spooky Shipping
MyMalls is doing something special for our members this year. We are offering $10 US off Shipping for 10 DAYS between October 22 and 31! Customers must enter the code: HALLO10 at checkout in order to enjoy this spooktacular discount!
Halloween Origins
On Sunday, October 31 the boundary between the world of the living and the dead will become blurred. It marks the end of summer and the harvest - and the beginning of the New Year; according to the Celts who lived two millennia ago. The tradition originated with the Celtic festival of Samhain where people would ward off ghosts by wearing costumes and lighting bonfires. More recently, in the 8th century, Pope Gregory III decreeted November 1, All Saints Day. The Catholic church incorporated some of the traditions of Samhain to celebrate on the evening before. This is how October 31 became known as All Hallows Eve - Halloween - which has now evolved into the creepy-fun Holiday it is today.
2021 Costume Trends
Some of us have spent the last year and a half stuck inside the house binge watching TV shows or plugged into social media. So, it's not surprising that this year's most popular costumes reflect some of the most iconic media and pop culture moments of 2021. To name a few, Marvel Comic characters from Venom and WandaVision are in high demand, but the true kicker this year are costumes from the Netflix hit series Squid Game. DIY costumes are always very popular and some of the most searched costumes on the Internet are Kim Kardashian's shadowy Met Gala look or pop star Britney Spears, whose life has been trending all year. However, our personal favorite here at MyMalls has to be Bernie Sanderswatching the Presidential Inauguration. There are also some pop culture classics in the mix to satiate Gen Z's obsession with the 90s: Cher's iconic yellow plaid suit in the movie Clueless and the cast of The Fresh Prince of Bel-Air are two very popular recurring themes that have remained undefeated for decades. You can find all of these looks and so much more on the Halloween Shop on amazon. We are also all about the fur-babies at MyMalls, so we urge you to visit the Spooktacular Creations store also on amazon for the most awesome pet costumes and accessories for Halloween.
Movie Marathon
Let's be honest, Halloween simply wouldn't be Halloween without the spine-tingling movies that go along with it. Ghostober is the one month where we all can appreciate the horror genre, even if you are not a fan. So, make sure you turn off the lights, lock the doors, pop the popcorn and settle in for some of the best Halloween movies! In the spirit of Spooky Season, we did another survey at work to find out Team MyMalls' top 10 favorite Halloween flicks! Don't worry, not all of them are scary and it includes some classics! Amazon Prime members will have no problem accessing most of these titles.
MyMalls' Halloween Movies Must-see:
Candyman (1992 and 2021)
Vampire vs The Bronx
Frankenweenie
Fear Street Trilogy
Get Out
Hocus Pocus
Scream
Halloween (1978 and 2018)
The Craft
Us
Monster Treats
No Halloween is complete without sweets! A bag full of candy is great, but for those of us hosting a party, nothing says spooktacular more than a table full of monster cupcakes, cookies and other treats! If you are planning to throw a party this year, Halloween themed treats will elevate the spooky spirit. There are some fantastic and creative monster themed recipes all over the Internet that would also make the most awesome desserts EVER!
We did say we are here to help so, Team MyMalls has scoured the internet for the coolest and scariest - also yummiest - products for a spooktacular Halloween!
These fun and yummy Halloween themed sprinkles are perfect for cakes, cookies, cupcakes, donuts, ice cream, pancakes, caramel apples and so much more! The sprinkles may look like something small, but they will make your monster desserts look truly amazing. Carefully and thoughtfully hand blended by master sugar artists, these jimmies by Manvscakes retail at $13.95 US on amazon.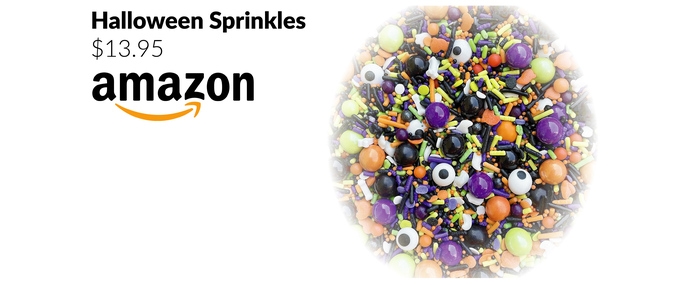 Ghosting has become a popular tradition over the years, and it's the perfect way to show people you're thinking of them during this pandemic. It's simple: make a bag of Halloween-themed goodies and leave it on a friend's doorstep with a note that encourages them to "ghost" someone else in turn. The Halloween Paper Gift Bags/Trick or Treat Bags by Outus comes with 60 pieces of bags and 66 Pieces of Halloween Stickers. These bags are a great way to surprise friends and family as it holds candy, cookies, chocolate, snacks and some small toys. They come in 10 different styles, such as vampire, ghost, spider web, black cat, and so on for only $16.59 US.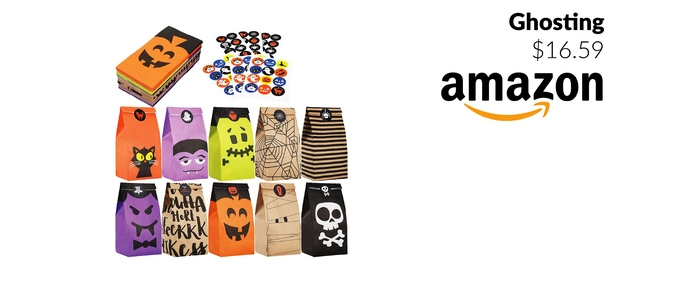 Halloween is a time for everyone; not only children. The same goes for binging on sweets. So, nothing screams Monstober more than this spooky themed Candy Variety Pack! It has about 180 piecesof some of your favorite candy bars: Hershey's Cookies 'n' Creme Fangs Bars, Hershey's Kisses Milk Chocolate Filled with Strawberry Crème with Vampire Foil, Caramel Whirls Milk Chocolate Candies, Reese's Peanut Butter Cups Gold and Green Foil, KitKat Glow in the Dark Miniatures Bars and Mint Meltaway Candies. Get it on amazon fo only: $29.99 US.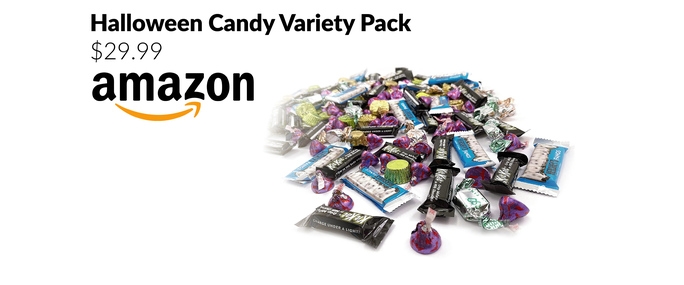 Halloween Ring Toss Game

Add fun to your Halloween party with this inflatable Spiders & Witch's Hat Ring Tossgame. This amazon bestseller is a fun activity for the entire family. It comes with 12 Rings ( 6 Inflatable + 6 Plastic Rings ) 1 Spider, 1 Witch's Hat and 1 Pump. The ring tossis also great for improving eye-hand coordination and concentration skills. It retails at $16.99 US on amazon.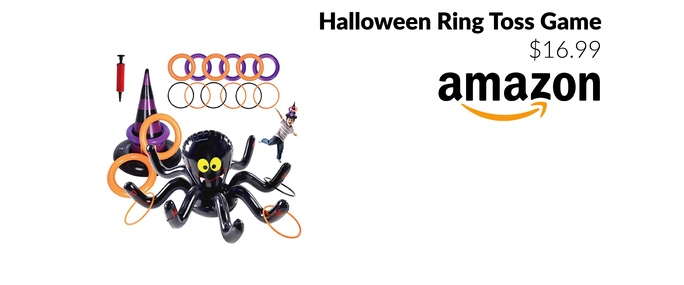 Mad Monster Face Trunk or Treat Halloween Car Decoration

Decorating for Halloween extends way beyond one's home. In fact, a car's trunk is where it's at! It's called trunk or treating and people go all out when it comes to decorating their trunks! This Mad Monster face from Hauntlook is decoration made easy. It comes with 11 large pieces that are big enough to turn any hatchback into the mouth of madness! Don't worry, this Halloween decoration comes with plenty of sticky adhesive for an easy mounting experience. The decor is great for drawing trick or treaters to your grinning car or send them running in fright. It sells for $32.99 US.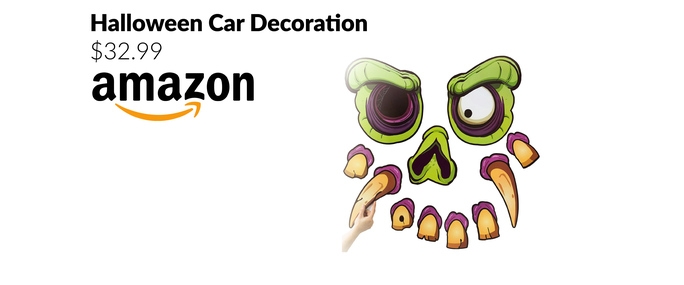 With Spooky Season well under way, make sure you shop between October 22 and 31 to enjoy $10 US off Shipping! All you need to do is enter the code: HALLO10 at checkout in order to enjoy this spooktacular discount!