At MyMalls, we're always thinking of ways to make the shipping process even faster and easier for our members. That's why we've introduced package preregistration. Let us know the details of your parcel in advance, upload your invoice, and we'll be able to process your package even faster once it arrives at our warehouse!

What is invoice preregistration and why is it important?
Whenever you bought something online (and used your MyMalls address at checkout), you can immediately log into your MyMalls suite and upload the invoice you received from the online retailer. This gives us the possibility to make things in order, even before your package has arrived in our warehouse! Only upload invoices from packages that are on their way to our warehouse.
Why do we need the original invoice?
In order to ensure that accurate values are provided to the importing country's customs declaration process, we are obliged to add a copy of your original vendors' invoice. We can therefore only ship packages for which we have received a copy of the original invoice. Wonder what a correct invoice looks like? Head over to our support article to find out.

We sometimes get questions about where to find invoices from Amazon. We created a help article specifically for how to find your Amazon Invoice. You can also always contact support@mymalls.com to help you out!


How does the Preregistration Process work?
Preregistration is really easy, and means you'll always be first in line!
Step 1 - Shop Online
Shop at your favorite U.S.-based online stores, and use your MyMalls address at checkout!
Step 2 - Sign in to your MyMalls Account
Log into your MyMalls account. On the dashboard of your online suite, there will be a 'Preregister now' link at the top of the screen. Click on that to start the preregistration process!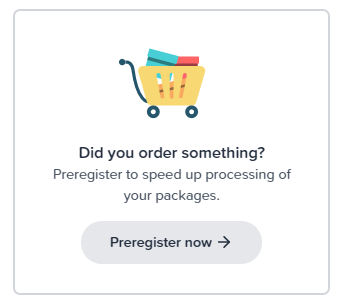 Step 3 - Upload your InVoice
Upload your PDF, either by simply 'drag- and dropping' the file, browsing your computer or by using the email address to forward the invoice directly to our system! You'll immediately see the status right underneath the PDF miniature, saying: 'Pending Review', which means we will review whether you uploaded the correct document (for more information, check the information on what a correct invoice looks like).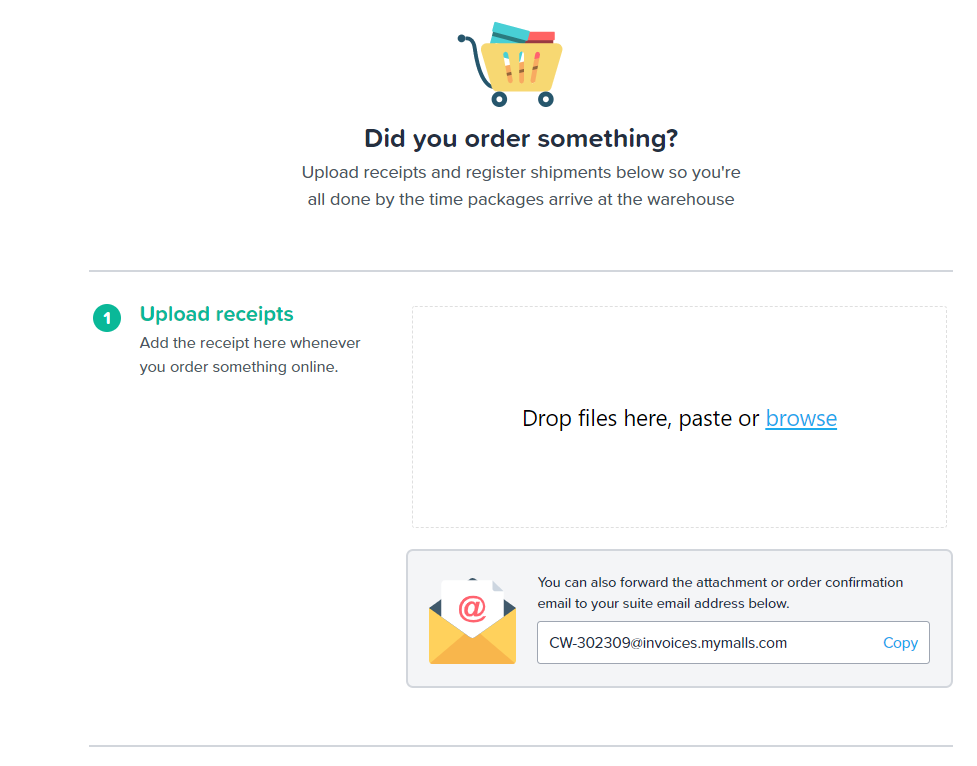 Step 4 - Add tracking (*Optional)
Please also add the tracking number, carrier and vendor. This way, we can keep track of your package which speeds up the process even more!

*You can do this later, once you have received your tracking information.


Hit the blue 'Add shipment' button and if everything's OK, a confirmation message will appear.



Great! Your package will now be visible in the 'Preregistered' section of your suite.
What happens next?
Once your package arrives at our warehouse, the MyMalls team will perform their usual checks and push it through to the payment stage. We're happy to store your packages for 60 days at no extra cost, and we'll also throw in free consolidation of up to three packages – which can net you a tidy $60 saving per combined shipment!
Pay for package
Once your package is ready for payment, you will receive a notification. Head back over to your suite to pay the shipping charge. We're advocates of cost transparency, which is why we offer an easy to use cost calculator to help you plan ahead.
Sit back and relax!
Sit back, relax, and wait for a knock at the door. Your package is on the way!
If there's anything you'd like to know about shipping with MyMalls, the entire journey, or anything else, we've put together an awesome support section, and you're always welcome to get in touch with our support team.

As always, happy shipping!


- The MyMalls Team :)