Definitely, a favorite shopping destination to our members, Team MyMalls had to see for ourselves what the fuss is all about. And we were pleasantly surprised to learn that SHEIN isn't only home to fashion products, but they also have a great home goods selection, a wide range of beauty care items and the cutest pet supplies!

The Real Deal

The retailer also launched their premium line, MOTF, last June; an elevated collection made from higher quality materials. In other words, SHEIN now offers premium clothes at an affordable price. Still, our MyMalls team found SHEIN's Curve + Plus department to be the real showstopper. They have been busting down doors in order for plus size and curvy shoppers to have access to fashion trends that are otherwise not accessible to them.

Fast Fashion Industry

When it comes to fast fashion, the concept is all about super trendy merchandise at the lowest possible price. However, this also means inconsistencies when it comes to manufacturing and sizing in particular. Unfortunately, SHEIN is no different. Just like other big name stores, their clothes can be a hit-or-miss in terms of quality. Therefore, we have asked our colleagues at MyMalls to do some reckon in order to help our members increase their chances in finding that special item. We have complied a few tips for shopping @shein.com for you:

1. Reviews are your best friend

When it comes to finding the right size for you, reviews are your best friend! First thing, check the sizing chart for the item you are considering. Then look up the reviews, especially the ones with photos. In addition to sharing their overall thoughts on a purchase, customers can share their measurements and the fit quality. This way you can get an idea of what something will look like when you wear it.

2. Measure yourself. Then measure again!

Never assume you know your size at an online store. So, go get the tape out and measure it against your body. The key is to measure twice, so you only have to order once! The girls here at MyMalls have also discovered a great hack: measure your own clothing! Sometimes a tape measure does not give you the best idea of fit; so if you really want to be sure, measure your wardrobe then compare. Now that you have done all your measuring, make sure there is enough room in the waist, chest, and shoulders so you can look good as well as breathe easily. Lastly, if you are unsure about sizing or measurement then size up! More often than not, sizes only differ 1 to 2 centimeters.

3. Keep an eye out for promo codes
SHEIN frequently offers markdowns and discount codes for special events such as the holidays. Customers can also earn points when they sign up for an account or when making an online purchase through their app. SHEIN is shop 'till you drop made easy.

4. Shipping
Keep an eye out for free shipping promos; though, SHEIN's clothes are already heavily discounted. Shoppers only pay for shipping on orders under $49; anything above is free! With factories all over the world, orders are shipped by China Post; then fulfilled by USPS and FedEx. Standard shipping is $3.99 and takes about 2-3 weeks. Express shipping costs $12.90 with a duration of about 1-2 weeks. Keep in mind, there is an additional processing period that can take up to 3 days. We have to mention this to be on the cautious side, but truth be told, we have seen more early deliveries coming through MyMalls' warehouse than not.

Team MyMalls' Favorite Picks

We have asked our colleagues to make a selection of their favorite outfits and they didn't disappoint! Here are some of Team MyMalls' fave fits:

Solid High Waist Pleated Skirt
Elegant meets casual with this plissé skirt made of polyester and cotton. Although, not too stretchy, the skirt has an elastic waistband. Suitable for spring, summer or fall, this skirt is easy to match with all kinds of tops. Pair it with a t-shirt or hooded sweatshirt for a casual look or finish it with a lace top for a dressy occasion. This pleated skirt is the foundation for playful and trendy looks. Available in black or coffee brown for only $15.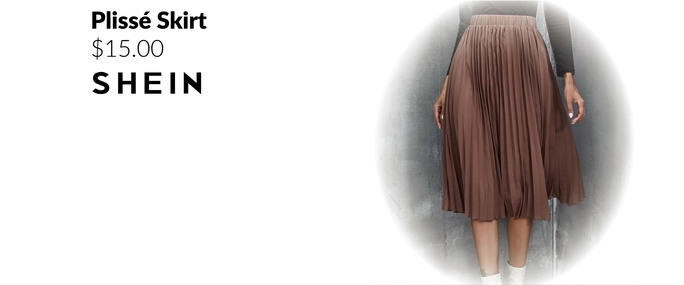 Dalmatian Print Shirred Waist A-line Dress
One of our top picks at MyMalls! There is nothing we don't love about this look. This luxe dress is the most flattering and sexy of all styles. The Dalmatian print and waist A-line makes it perfect for making a sophisticated party entrance. This effortlessly chic gem has something to offer everyone as it goes up to a size 4X! Go from day-to-night in one of these beauties by simply swapping flats for strappy sandals and adding pop of color on the lips. Available in black &white, mint green and beige for $20 US.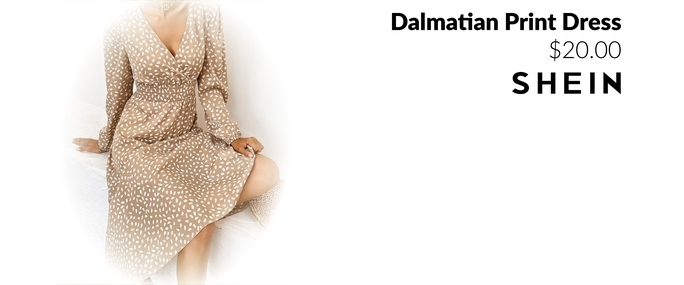 Lapel Neck Pleated Detail Dress
The Cross Wrap Notch Neck Ruched A-line Dress' subtle ruched side seams makes for a fashionable and elegant cut. The skirt detail either hides your belly or highlights your curve for showing figure. This is another steal for $20; and it comes in 12 different colors! Note: the dusty blue and black are the best sellers!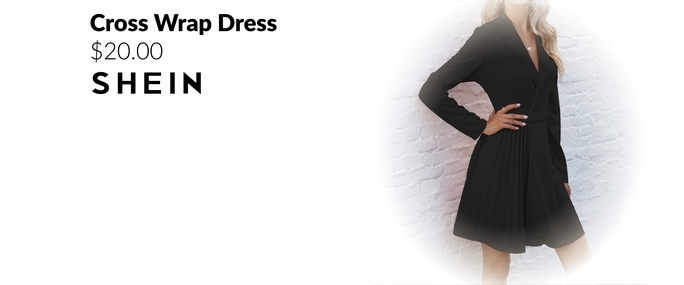 Color Block Drop Shoulder Sweater

Welcome cooler weather in the coolest knit sweater! This striped color-block, long-sleeved beauty has a crew neck and a relaxed fit that is guaranteed to turn heads. Pair with denim and booties for the perfect mix of colorful and casual for any occasion! This color block soft sweater is definitely on trend for fall. We love this look and all the beautiful colors it offers. The relaxed fit and crew neck makes it a favorite for Shein's customers. Available in six colors: blue, grey, khaki, pink, purple and black for $20 on Shein.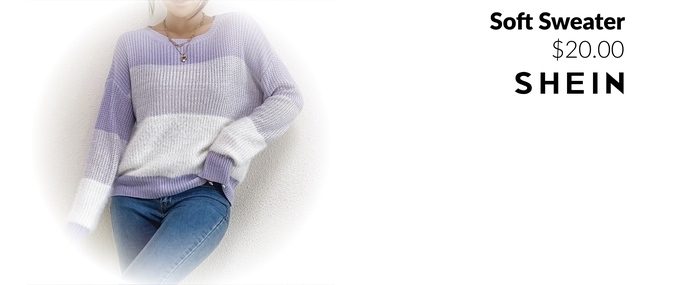 4pcs Solid Crop Knit Top

Another favorite, this 4-piece crop knit top set comes in black, white, blue and camel for only $17. A more sexy variation on the classic knit top, there are many fun ways to wear this wardrobe staple. Chic it up with your favorite blazer for an elevated look or pair it with mom jeans for a more casual look. They also look great with denim shorts or a skirt. This crop knit top set is as comfortable as it is effortlessly.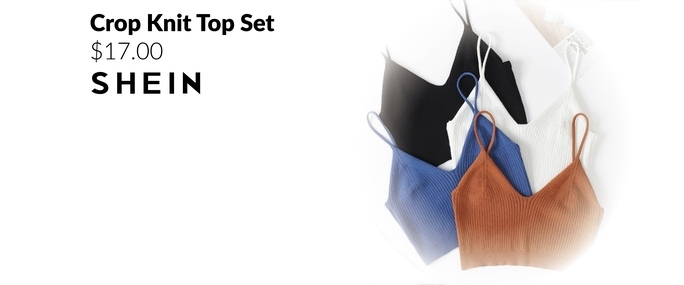 Face Line Art Ripped Jeans

We have seen contemporary brands bringing mom jeans back in full force and it's no wonder! This pair is for anyone who wants to look different as they are adorned with gorgeous face art stitches. The signature high waist and cool rips, makes this jean a must have this season. These hella cute jeans retail at $25 US.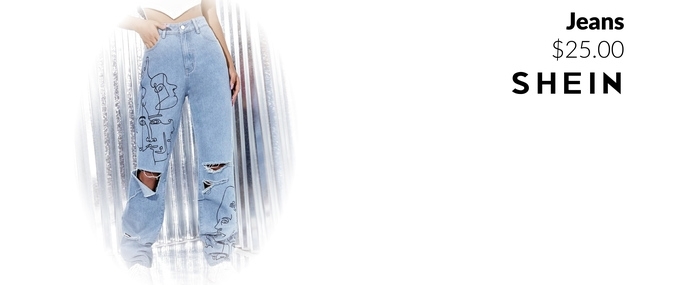 Trustworthy
If you are into fast fashion, SHEIN is a great place to turn to. It is as trustworthy as the likes of ASOS, amazon or Ebay; in other words, it is a safe place to shop. You will receive a notification in your inbox once your order is processed. Then another one when it has shipped and delivered. So, you will be in tune with every step of the process. Still, we recommend our customers to sign up for an account in order to qualify for points and special discount codes.

Tracking
SHEIN's very accessible interface helps customers keep track of their order. Once you log into your account all you need to do is go to My Orders. In "My Orders," you will be able to get an overview of your order history and their status. Then click "View Details" for more. If your order is "Shipped", select "Track" to check the status of your package. An overview of your recent shipping history of your package will pop up. Now you are able to track each leg of your package's journey. While you are at it, copy the package's tracking number and paste it to your suite on MyMalls. Make sure to include the name of the carrier and vendor so we can assist you if needed. Once you have received your package, confirm delivery and earn Bonus Points on your SHEIN account!

Preregister Your Invoice
Look for your invoice in your email inbox or access it on your SHEIN account under "My Orders." Make sure to download it into a PDF in order to upload in your MyMalls suite. For an even faster turnaround, go to preregister shipments then upload your invoice. Uploading invoices and adding tracking numbers leads to faster processing of packages when they arrive at our warehouse.