If you're new to MyMalls, you're probably wondering how to complete your first shipment. And even if you shipped with us before, we'll walk you through some handy information!

Learn what to expect every step of the way. We're going to follow the journey of a package, from the moment you order online, to its arrival at our warehouse and concluding with its safe delivery right to your doorstep!

Moreover, you'll learn the all-important daily cut-off times for shipments and repack & combine requests!


Step 1 — Before you shop online: Use our Cost-Calculator

MyMalls is an express shipping company. Meaning we deliver within 24-48H once a package leaves our warehouse! This also means that it can be relatively expensive to ship extremely cheap items (learn more about this here). We therefore always advise you to use our cost calculator before you shop online using your MyMalls address!

*Read our blogpost on how to save money on shipping


Step 2 — Shop online using your MyMalls address
This step is arguably the most enjoyable! Shop online at any retailer that delivers to our U.S. warehouse. At checkout, simply fill out your personal MyMalls address, including your personal suite number. No account yet? Sign up for free now to see your full personal address!



**Your personal MyMalls address will be visible when you log into your account



Step 3 — Package Arrival
Once a package you ordered online (with your MyMalls Address) is delivered to our warehouse, our staff scans the package, measure and weigh it, take a picture and add it to your suite.


In addition, we inspect the package for completeness, to make sure there are no prohibited items, and we check whether everything is free of damage. We also add descriptions of the content. You'll immediately receive a notification about this as well, so you know your purchase arrived safely at our warehouse.


Step 4 — Ready to Pay
Right after inspection, your package will be marked 'Ready to Pay'. If you used our handy preregistration service (which will speed up the entire process) you can pay for delivery right away.

If you didn't upload an invoice for your package yet, you will receive an email saying your package is ready for payment, but the invoice is missing. Once you've uploaded the invoice, your MyMalls team will check and approve it. When that's done, you can pay for shipment.

Pending payment, your package goes to the racks and we will safely store it for free for 60 days. This gives you ample of time to pay for the package or use our repack & combine service.

***Important cut-off times for Repack & Combine requests:
Consolidations requested before 4pm will be processed and shipped on the same working day.
Consolidations requested after 4pm will be processed and shipped on the next working day.
****Important cut-off times for Payment:
Complete payment of your package before 17.00 local time (of the warehouse) and your package will be shipped the same day.
Step 5 — Checkout and Select/Add your Home Address
Once you're ready to ship any – or all – of your packages, simply click on the 'Checkout' button. If you would like to change the address we ship to, you are given the option to do so.

Next, enter your credit or debit card details, or select the PayPal option, then click 'Review payment'.




Step 6 — Pending Shipment (Prepare for pickup)

Once you have paid for delivery — via PayPal, or direct credit card payment within your suite — the status of your package changes to "Pending Shipment".

At this point, your MyMalls team takes care of all the administrative paperwork to prepare for pickup. We print the commercial invoice, MyMalls invoice and AWB and place this in a pouch sticked to your package. Next, we arrange for the pickup of your package by our shipping partner, to begin the next stage of its journey!


Step 7 — On its Way!
After our shipping partner picks up your package (which is around 17.30), its status will change in your MyMalls Suite to "On the way to you".



Clicking on the package will display the latest status of delivery with all the tracking information.



Step 8 — Package Delivery!
Sit back, relax, and await a knock at your door. Within 24 to 48 hours after a package leaves the MyMalls warehouse, you will receive the anticipated knock at your door. A friendly shipping agent will hand you your online-purchased package, safe and sound! Yahoo!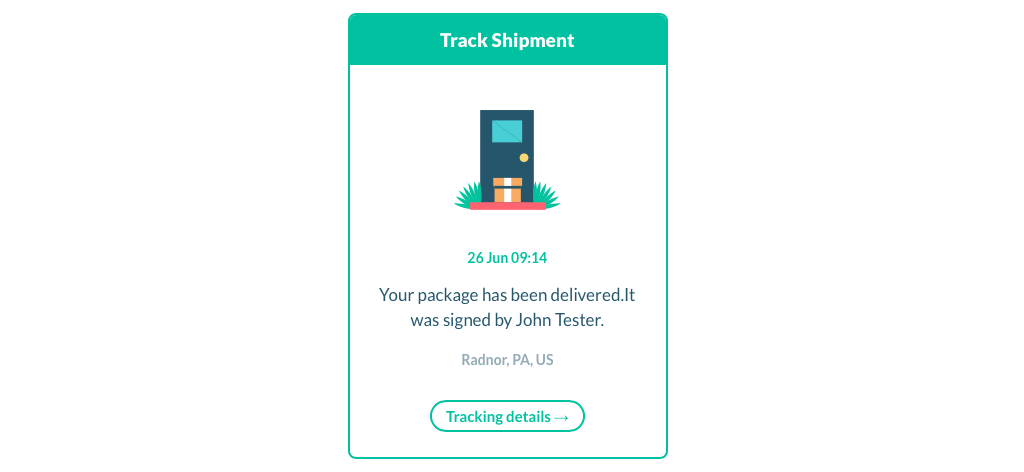 ***** Please note that local duties and taxes are payable at the point of receipt. Fees vary by country, and you'll pay them directly to the courier.


End of the Journey
After delivery, the MyMalls package information is moved into the archive area of your Suite, conveniently available for reference at any time in the future, for things like printing of invoices.
And so ends the exciting journey of a MyMalls package, beginning with its online purchase, to its fast and efficient delivery at your doorstep!

If you haven't yet started to enjoy the best delivery service available, why not give it a try right now? Signing up is free, and takes only two minutes!

If you would like to learn more about shipping, or any other aspect of the MyMalls experience, please check out the helpful articles contained within our Help Center.



Happy shipping!
Your MyMalls Team